The much-awaited Free Fire OB41 Advance Server has finally been launched, granting players the exciting opportunity to explore new unreleased features and changes ahead of the official update. This testing phase brings forth several marquee features, including an overhauled profile section, a new character named Suzy, ability adjustments for existing characters, and the addition of the new Outlaw mode.
One of the significant updates in the Free Fire OB41 Advance Server is the revamping of the profile section. The UI has been streamlined to provide a more simplistic and user-friendly experience, showcasing titles and achievements more effectively. Additionally, players can now view recent visitors to their profiles and even give thumbs up to others when visiting theirs. The store section has also undergone a makeover, featuring an improved menu and a clearer display of items available for purchase, with gun skin attributes now visible directly on the item images in the crates.
Free Fire OB41 new Suzy character
Introducing a fresh addition to the character roster, the Free Fire OB41 Advance Server introduces Suzy, who possesses the unique ability called Money Mark. By using this ability, marking an enemy will result in a bounty being placed on them.
If any member of your team eliminates the marked opponent, they will receive an additional 100 in-match currency. Moreover, you, as the player who initiated the marking, will also earn an extra 100 in-match currency for the successful elimination. She probably going to be one of the best characters in Free Fire in the OB41 update
Free Fire OB41 ability changes
As is customary with Free Fire updates, the OB41 Advance Server brings a series of ability adjustments to characters, enhancing their roles in the game.
Notably, Antonio's ability has changed from providing an additional 40 HP to granting 40 extra Shield Points at the start of the match.
Nairi's ability has undergone a significant overhaul, with her Gloo Walls now restoring 250 durability every second, and teammates within a 5m range receiving 20 HP per second, up to a maximum of 40 HP per teammate per Gloo Wall.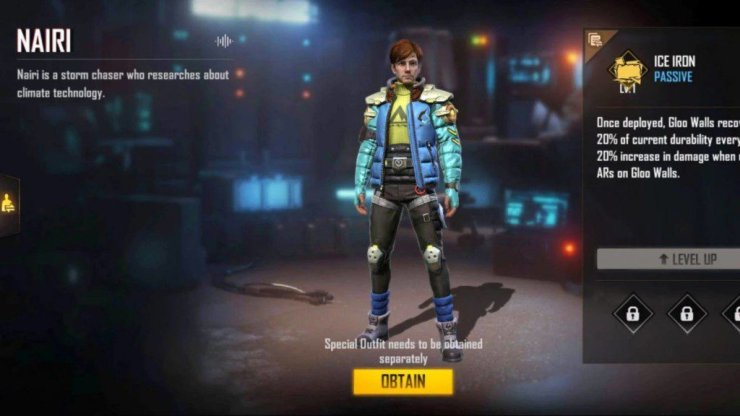 Shani's Gear Recycle ability has been updated to provide 50 Shield Points to herself and teammates within 10m upon using the active skill, but the Shield Points will decay after 5 seconds. Additionally, the ability now comes with a 10-second cooldown.
Meanwhile, Shirou's Damage Delivered ability has been slightly nerfed. Instead of dealing additional damage, Shirou now marks enemies who hit him within 100m for 6 seconds, sharing the intel with teammates, with a maximum cap of four markings.
Free Fire OB41 new target range
Adding to the excitement of the OB41 Advance Server is the inclusion of a new target range. Replacing the traditional moving and stationary targets, this updated range features human-like models. Players can customize various parameters, such as distance, number of targets, and speed of movement, providing a more realistic and effective practice environment.
Furthermore, the Bermuda map's Peak section has been reworked for both BR and CS modes. A new parking space with ample cover has been introduced, and the core building at the location has been expanded to offer more tactical combat opportunities. Additionally, players can now find a maze in front of the mansion, further enhancing the gameplay experience in this area.
With the Free Fire OB41 Advance Server now live, players can provide valuable feedback to help refine and polish these new features before they are officially released. Garena has also introduced a bounty hunter program to reward players for their valuable input during this testing phase. So, dive into the advanced server and be a part of shaping the future of Free Fire!
>>>> Read more: Who Is The Best Passive Character In Free Fire 2023?